J.R.'S West Virginia Football Page
"A Mountaineer in Michigan"
---
Hello I'm J.R. Holmes, a Mountaineer living in Wixom, Michigan. Though I have Wolverines to the left and Spartans to the right, I will always be a MOUNTAINEER!!!!...Sound the battle cry
Lets GOOOOOOOO MOUNTAINEERS!!!!!!
---

Write J.R.



---
Mountaineer Counter says you are visitor
---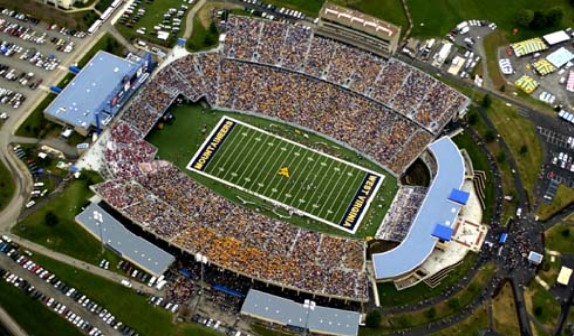 A View of Mountaineer Field from the Goodyear Blimp



"National Signing Day"
Mountaineers sign 20 players overall in two signing periods

New WVU Coaches able to keep all 16 players signed in December
West Virginia still has 3 scholarships for future signings or transfers

Next Up: Gold-Blue Spring Game, presented by U.S. Cellular on Saturday, April 13, at 1 p.m., at Mountaineer Field.
Well everyone first let me say how disappointed I was to abandon this website with several games left in the season but it seemed like there simply was no interest anymore with little to no message board activity, however, In the time I was not posting game reports I noticed I was still getting hits on the counter and a few folks contacted me and asked if I was just disappointed in WVU Football or something else. I was disappointed in the way the season ended up and I had grown a bit tired of Coach Holgorsens act but the Hiring of Coach Neal Brown from Troy has certainly renewed my interest and I am certainly anticipating what he can accomplish at West Virginia. So, we will all get our first glimpse of Coach Browns Mountaineers in a little over two months when WVU conducts their Gold & Blue Spring presented by U.S. Cellular on Saturday, April 13, at 1 p.m., at Mountaineer Field at Milan Puskar Stadium.
In just over a month as Mountaineer Head Coach Neal Brown has done a pretty good job of pretty much completing his coaching staff and salvaging the recruiting season which is always tough the first year of these coaching changes. The big surprise of the class would appear to be the graduate transfer of Oklahoma quarterback Austin Kendall. The former 4 Star high school recruit has two years of eligibility remaining and decided to come to Morgantown when Alabama quarterback Jalen Hurts decided to transfer to Oklahoma. Having already backed up the previous two Heisman Trophy winners and patiently waiting for his turn for a chance to compete for the starting quarterback position the arrival of Hurts clearly showed Oklahoma had other ideas.
On the positive side Austin Kendall apparently had a connection to coach Neal Brown from his days as an assistant at Kentucky and is a big addition to the West Virginia quarterback room which now has 3 scholarship athletes at the QB position in Kendal, Miami Transfer Jack Allison who also has two years of eligibility remaining and Sophomore dual threat quarterback Trey Lowe. It should make for a good competition and I truly believe coach Brown will give all three a legitimate shot at the starting position.
This years recruiting class is almost evenly split on offense and defense with 11 defensive players and 9 offensive players. The Offensive players are of course led by the before mentioned quarterback Austin Kendall but I cannot help but be intrigued but wide receiver/kick returner Winston Wright from Savannah, Georgia who is supposed to be lightning in a bottle in the mold of a Tavon Austin however at 5ft 11 165 lbs. he will need to bulk up a bit or he will not survive a Big 12 season. Defensively the highlights of the class would appear to be Cornerback Tavian Mayo out of Leesburg Georgia. Mayo had tremendous success at the High School level. Another interesting defensive prospect is Rashean Lynn who at 6ft 5 is incredibly big for a safety and was recruited by most schools as a receiver but wanted to play safety and choose WVU who saw his size as a potentially potent safety.
In all this class includes 3 Cornerbacks, 4 Safeties, 1 Linebacker and 3 Defensive Linemen on defense. Offensively the class includes 1 Quarterback, 3 Offensive Linemen, 3 Wide Receivers and 1 Running Back. This years class also includes placekicker/Punter Kolton McGhee from Altoona, Pennsylvania. McGhee was a 2-time All-State place kicker in Pennsylvania and averaged 46.2 yard a punt his Senior season. Of the 3 remaining scholarships, I wouldnt be surprised to see all 3 on the offensive side of the ball on the line and at wide out.
Coach Neal Brown is the most intriguing hire at West Virginia since Rich Rodriguez succeeded Hall of Fame Head Coach Don Nehlen. I cannot help but have renewed excitement at his hiring, most of the College Football analysts believe him to be a great hire for West Virginia. As for the way Dana Holgorsen left the program for Houston? I am not surprised or disappointed that he did so, If fact I am actually surprised he was at West Virginia as long as he was as he really seemed like a square peg in a round hole in Morgantown, however I appreciate what he did in his time at WVU and wish him the best at the University of Houston, especially his first game next season when they face Oklahoma. Would it not be a classic if he finally beat Oklahoma, his big nemesis in the Big 12, in his very first game at Houston. A great way to endear yourself to the fan base right out of the gate.
Simply cannot wait for the Spring Game on April 13th.

2019 West Virginia Football Recruiting Class

Until Next Time
Let's GOOOOOOOOOOOOO!!!!!!!!!!! Mountaineers!!!!!!!!!!!!!!!!!

---
Mountaineer Links
2018-2019 Bowl Game Schedule
Follow other Mountaineer Sports Teams
---
2019 WVU Football Schedule
(P) Parents Day - (H) Homecoming - (M) Mountaineer Week - (V) Varsity Day - (N) Night
---
Click Opponents Name to visit Official University Website
Click Game Date for Box Score
Game Date
Game Time
Opponent/Location
Event
Televised
Game Score
08/31/19
TBA
James Madison
Dukes
Morgantown
Non League Game
TBD
West Virginia
James Madison
09/07/19
TBD
Missouri
Tigers
Columbia,MO
Non League Game
TBD
West Virginia
Missouri
09/14/19
TBD
N.Carolina St
Wolfpack
Morgantown
Non League Game

TBD
West Virginia
N.Carolina St
09/21/19
TBD
Kansas
JayHawks
Lawrence,KS
Big 12 Game
TBD
West Virginia
Kansas
10/05/19
TBD
Texas
Longhorns
Morgantown
Big 12 Game

TBD
West Virginia
Texas
10/12/19
TBD
Iowa St
Cyclones
Morgantown

Big 12 Game
TBD
West Virginia
Iowa St
10/19/19
TBD
Oklahoma
Sooners
Norman,OK

Big 12 Game
TBD
West Virginia
Oklahoma
10/31/19
TBD
Baylor
Bears
Waco,TX
Big 12 Game
TBD
West Virginia
Baylor
11/09/19
TBD
Texas Tech
Red Raiders
Morgantown
Big 12 Game
TBD
West Virginia
Texas Tech
11/16/19
TBD
Kansas St
Wildcats
Manhattan,KS

Big 12 Game
TBD
West Virginia
Kansas ST
11/23/19
TBD
Oklahoma St
Cowboys
Morgantown
Big 12 Game

TBD
West Virginia
OK State
11/29/19
TBD
TCU
Horned Frogs
Fort Worth,TX
Big 12 Game

TBD
West Virginia
TCU
00/00/00
TBD
Opponent

TBD Location
Bowl Game

TBD
West Virginia
Opponent

Visit The Mountaineer Message Board

Mountaineer Photo Gallery

---
Get Your West Virginia Merchandise Right Here
---
This site designed and updated by J.R. Holmes