J.R.'S West Virginia Football Page
"A Mountaineer in Michigan"
---
Hello I'm J.R. Holmes, a Mountaineer living in Wixom, Michigan. Though I have Wolverines to the left and Spartans to the right, I will always be a MOUNTAINEER!!!!...Sound the battle cry
Lets GOOOOOOOO MOUNTAINEERS!!!!!!
---

Write J.R.



---
Mountaineer Counter says you are visitor
---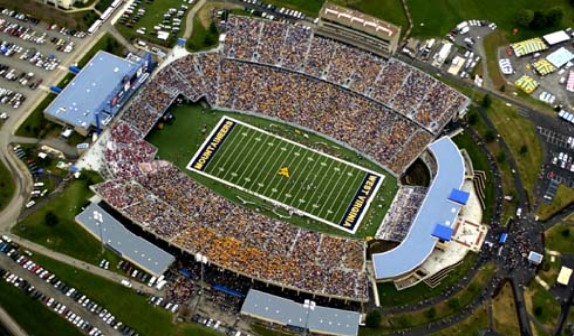 A View of Mountaineer Field from the Goodyear Blimp



Outclassed
Mountaineers have no answers as Sooners roll 52-14
3-4 West Virginia will try to find 3 more wins for Bowl eligibility.



Game Info: West Virginia at Baylor Thursday, October 31st in Waco Texas at 8:00 pm on ESPN.
Well it was an interesting football game for 2 quarters and then the Oklahoma Sooners added 24 unanswered points in the 2nd half and came away with a 52-14 drubbing of the outmanned West Virginia Mountaineers before a sellout crowd in Norman Oklahoma. There really isnt much to say about this contest as the Mountaineers Sleep Walked through this football game and lost by 38 points and quite frankly at times during this game it looked like Oklahoma could have scored 70 or more if they wanted to.
After Oklahoma jumped out to a 14-0 lead on a pair of 1st quarter Jalen Hurts touchdown passes of 20 yards to Jeremiah Hall and then 6 yards and to Charleston Rambo (Great name) and the Sooners took a 14-0 lead into the 2nd quarter. The Mountaineers would try to make a game of it early cutting the lead to 14-7 on a 10 play 75-yard drive ending with a beautiful 38 yard touchdown pass from Austin Kendal to T.J. Simmons but unfortunately for West Virginia thats as close as they would get the rest of the game, in fact on the ensuing possession the Sooners would go 75 yards in just 7 plays to extend the lead to 21-7 on a 9 yard TD scamper by sophomore tailback Kennedy Brooks and after a 3 and out by the WVU offense the Sooners went 57 yards this time on just 3 plays and grabbed a 28-7 lead on a 2 yard Jalen Hurts touchdown run and things were starting to look ugly,
However the Mountaineers refused to roll over before we even got to the break and mounted a 7 play 51 yard drive and made it a 28-14 game on another TJ Simmons touchdown catch from Austin Kendal this time from 7 yards out and West Virginia went into the half trailing by just 2 touchdowns and giving Mountaineer Nation a glimmer of hope that this could be an actual football game in the 2nd half. Unfortunately that never materialized.
Oklahoma took the 2nd half kick and went 75 yards on 6 plays ending with a 22 yard Jalen Hurts touchdown run and early in the 3rd quarter it was 38-14 Sooners and after yet another WVU punt Jalen Hurts would find Lee Morris on a 45 yards touchdown and just like that it was 42-14 and this game was Officially over!
Oklahoma would add another 10 points, 7 of which came on a blocked WVU punt at the Mountaineer 9 yard line recovered in the end zone by the Sooners but the bottom line is that West Virginia was outscored 24-0 in the 2nd half and could not mount any kind of an offensive threat in this football game.
This 2nd half collapse in back to back games is very disturbing and hopefully is not a trend we see with Mountaineer football the rest of the season. After the solid performance on homecoming Saturday against a very beatable Texas Longhorn football team I totally expected the Mountaineers to have a shot in each game going forward but after going into the half against the Iowa State Cyclones tied at 14-14 the EERs collapsed and were outscored 24-0 in the 2nd half. Fast forward to this weeks game WVU showed some grit against a vastly superior opponent and trailed by only 2 scores 28-14 at the half. However, the EERs collapsed and were again outscored 24-0 for the 2nd straight game in the 2nd half.
The Mountaineer coaches welcome this bye week to be able to stress some of the program fundamentals that have apparently gotten away from this team during this rough 3 game losing skid. When it rains it pours and WVU has had a bunch of injuries in positions they were already thin at but its the next man up mentality and they have to find a way to play an entire game against the upstart and undefeated Baylor Bears on Halloween night and not fall into the theme of the night and scare the hell out of Mountaineer Nation with another 2nd half collapse.

Until Next Time
Let's GOOOOOOOOOOOOO!!!!!!!!!!! Mountaineers!!!!!!!!!!!!!!!!!

Game Reports for all Games in 2019 Season
---
Mountaineer Links
2019-2020 Bowl Game Schedule from ESPN
Follow other Mountaineer Sports Teams
(Updated 09/01/19)
---
2019 WVU Football Schedule
(P) Parents Day - (H) Homecoming - (M) Mountaineer Week - (V) Varsity Day - (N) Night
---
Click Opponents Name to visit Official University Website
Click Game Date for Box Score from ESPN
Game Date
Game Time
Opponent/Location
Event
Televised
Game Score
08/31/19
2:00 pm
James Madison
Dukes
Morgantown
Non League Game
MSN
West Virginia 20
James Madison 13
09/07/19
Noon
Missouri
Tigers
Columbia,MO
Non League Game
ESPN2
West Virginia 7
Missouri 38
09/14/19
Noon
N.Carolina St
Wolfpack
Morgantown
Non League Game
Gold Rush Saturday

Fox Sports 1
West Virginia 44
N.Carolina St 27
09/21/19
4:30 pm
Kansas
JayHawks
Lawrence,KS
Big 12 Game
MSN
West Virginia 29
Kansas 24
10/05/19
3:30 pm
Texas
Longhorns
Morgantown
Big 12 Game
Homecoming Game
Stripe the Stadium

ABC
West Virginia 31
Texas 42
10/12/19
4:00 pm
Iowa St
Cyclones
Morgantown

Big 12 Game
ESPN
West Virginia 14
Iowa St 38
10/19/19
NOON
Oklahoma
Sooners
Norman,OK

Big 12 Game
FOX
West Virginia 14
Oklahoma 52
10/31/19
8:00 pm
Baylor
Bears
Waco,TX
Big 12 Game
ESPN
West Virginia
Baylor
11/09/19
TBD
Texas Tech
Red Raiders
Morgantown
Big 12 Game
TBD
West Virginia
Texas Tech
11/16/19
TBD
Kansas St
Wildcats
Manhattan,KS

Big 12 Game
TBD
West Virginia
Kansas ST
11/23/19
TBD
Oklahoma St
Cowboys
Morgantown
Big 12 Game
Senior Day

TBD
West Virginia
OK State
11/29/19
3:30 pm
TCU
Horned Frogs
Fort Worth,TX
Big 12 Game

ABC/ESPN
West Virginia
TCU
00/00/00
TBD
Opponent

TBD Location
Bowl Game
(We Hope!)

TBD
West Virginia
Opponent

Visit The Mountaineer Message Board

Mountaineer Photo Gallery

---
Get Your West Virginia Merchandise Right Here
---
This site designed and updated by J.R. Holmes